Are you feeling down lately? Stressed out?
Perhaps a bit more irritable than usual?
It's possible that your home is to blame.

Believe it or not, the environment we live in has a huge impact on our mood and well-being. That's why it's important to make small changes around your home to improve your mood and create a positive atmosphere.

In this blog post, I will discuss some easy tips for brightening up your home and improving your mood!
Disclosure – **This post contains affiliate links and I will be compensated if you make a purchase after clicking on my links (with no extra cost to you)
First and foremost let me just say that these tips are things that make me feel good and happy but they can't replace professional help if you need one. If you're dealing with a major problem or issue, I think it will be best to seek help.

My goal in this post is to inspire, and give ideas and direction so that if you want to make a small change in your home, that you believe will impact your mood, you will get an idea here.

Add more light. Light is one of the easiest ways to boost your mood.

One of the quickest and easiest ways to brighten up your home is to open the curtains or blinds and let in some natural light.

Sunlight has been shown to have numerous benefits for our mental health, including reducing stress levels, improving mood, and increasing energy levels.

If you're able to get outside for a bit, take a few minutes to soak up some vitamin D. Even just a few minutes of fresh air can work wonders for your mood.
Choose bright and cheerful paint colors.
You may be creating drama with dark brown or black paint, but it won't help your mood.
Dark colors aren't the only issue because neutrals can also be dreary.

Brighter colors like yellow, pink, blue, and green can freshen up a room and give it an instant lift. Your mood will also benefit from the change.
Add happy artwork.
Select art that makes you feel happy. Images of beautiful landscapes, animals, prints, and abstract designs are popular choices. You can also frame your children's artwork as a reminder of the joy they bring into your life.
Here is a wonderful option for new art for your home – buy from Amazon.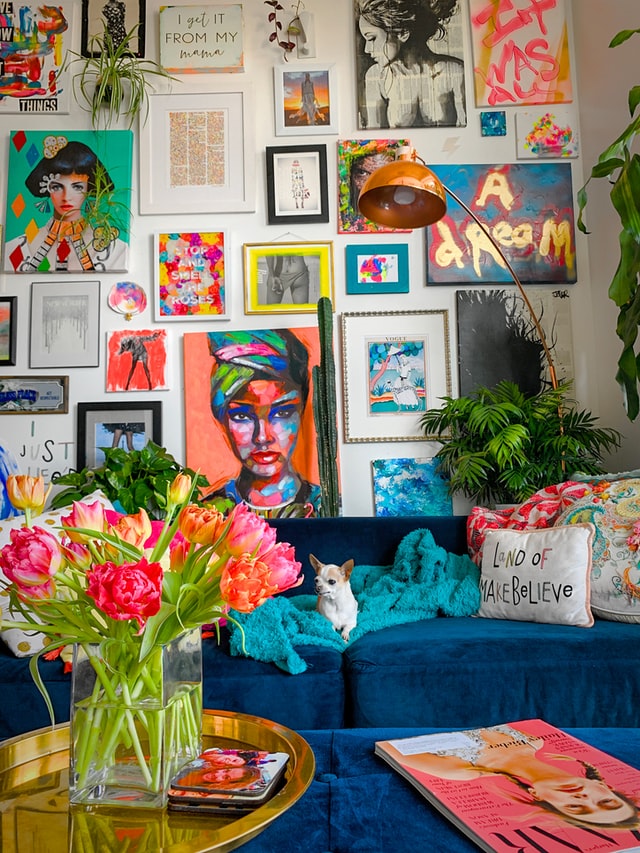 Rearrange or replace decorations.
Does the vase from your aunt make you want to cry? Do you wish your decorations could get an upgrade?
Changing the decorations in your home can help you lift your mood. Replace old and hated objects or rearrange other items. Even a simple pillow swap for new pillows can make you feel better.
Add flowers.
Fresh flowers are preferred and will also add a nice fragrance to a room. However, they're not the only option. Silk flowers come in a variety of realistic choices and can instantly brighten a room.
Get rid of clutter.
Clutter can weigh you down emotionally and negatively influence your mood, even if you think you don't notice it. If you clean your house and eliminate clutter, you'll notice a big emotional change.

So take some time to declutter and organize your living space.

A tidy home can do wonders for your mood and overall sense of well-being.

When everything is in its place, it's easier to relax and feel at ease. Plus, you'll be less likely to get stressed out when you can't find something you need.

Finally, consider new storage ideas to prevent clutter from reappearing.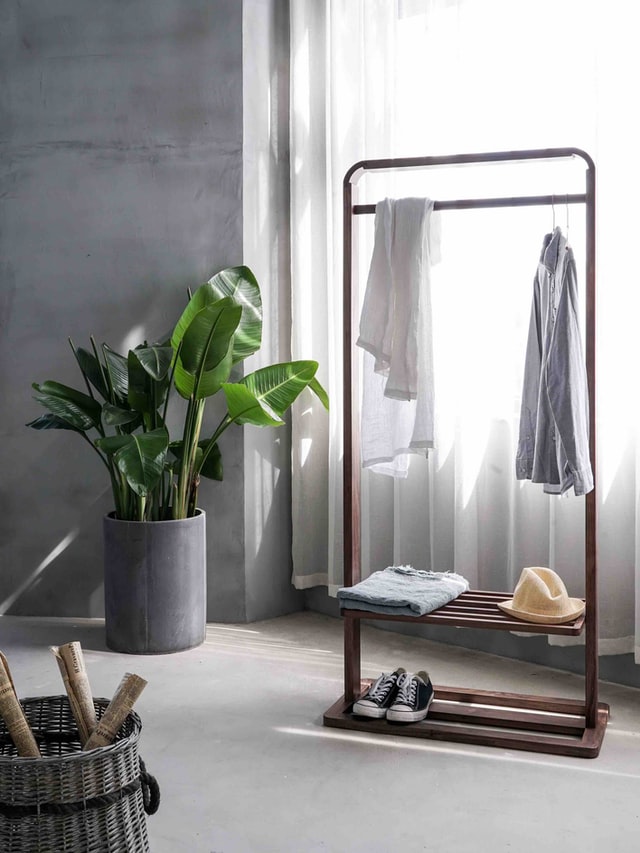 Add some fragrance.
If you don't have allergies, then you can use fragrance for a positive change.
Essential oils are one way to brighten your mood and modify the ambiance in a room:
Citrus oils like grapefruit and orange are linked to happier moods.
Mint oils, such as peppermint, also have a similar effect. You can spray a small amount of the essential oils into the air to create a lasting impact. You can also add oils to a burner for another way to add fragrance.

Read My full explanation about essential oil vs. fragrance oil

Another simple way to improve the mood in your home is to add some scented candles or diffusers.

As I said, certain scents have been shown to be particularly effective at reducing stress and promoting relaxation.

Some other scents that I love include lavender, chamomile, and vanilla.

Experiment with different scents until you find one that works for you.
Try some of these products to make your home smell amazing:
Bacche di Vinum Home Spray – $19.00
from:
Mozzafiato
Oro Home Linen Spray – $19.00
from:
Mozzafiato
Lavenda Home Linen Spray – $19.00
from:
Mozzafiato
Add more pictures of your family and friends.
If seeing an image of your loved ones instantly makes you smile, then consider adding more of their pictures to your home.
The refrigerator and fireplace mantel aren't the only locations you can display pictures of your friends and family. You can add their photos to the walls, coffee tables, and side tables.
Uplift your mood by making simple changes around your home. You'll notice a difference in how you feel almost immediately.

Try implementing some of these tips and see how they impact your mood.

I think you'll be pleasantly surprised!

If you have any other suggestions for improving your mood, be sure to share them in the comments below.
Some related posts:
10 Ways to Improve Your Appearance This Summer
What Perfume Products To Use To Perfume Your Home?

Read my latest posts:
Well, I hope you enjoyed this and now I must love you and leave you.
Sharon -Rachel