My review on – Pink Sugar by Aquolina vs Candy by Prada – candy-like perfumes.
If you want to smell like candy or a snack – stay tuned and read why we want to smell like candy.
Disclosure – **This post contains affiliate links and I will be compensated if you make a purchase after clicking on my links.
A perfume that smells like candy.

The question is- why do we want to smell like candy?

We are mature, serious, working, educated women, why would we want to smell like cotton candy or toffee?
This family of perfumes is a very interesting category because I think there is no equivalent to it in perfumes intended for men.

Ok, so of course, it can always be argued that anyone can go with whatever they want, and yet .. perfumes that smell like candy are mainly for the female audience.

In this context, I am also always surprised that pajamas designed for mature women come with drawings of teddy bears or balloons and convey something very childish. Would you go to bed with a man wearing light blue pajamas with little clouds and balloons?
I think that's food for thought. Anyway…


In childhood, we all loved sweets, it is a childhood experience that many children around the world share, whereas here in such perfumes, it is recreated to allow mature women to smell like candy meaning something immature.


So what can such perfumes offer us?

I think most of them tend to a younger crowd.
These perfumes allow us to be more relaxed, soft, and even more romantic.

Such perfumes immediately put a smile on our faces but can equally deter some women because the sweetness can also cause headache, nausea, or just a feeling of being too old for it.

Did I say too old for it? yes, it's a feeling you get when you first smell these perfumes because they lack sophistication, many layers, character, or uniqueness.

They hit our noses and senses with their overwhelming sweet scent and then one of the two will happen: you either like it or not.

I think young women will like perfumes of this kind better than mature ladies unless you're looking for a little fun, something different, or you find this a pleasant scent.

But those looking for sophistication and depth will find them less in this category of perfumes.

It may be implied that I am not so in favor of this category – on the contrary! I believe there is a market for everything and I too sometimes enjoy having fun with a scent that is all about magic & sweetness.

I just think that we should pay attention to what we are choosing to wear and the message it will convey.


The truth is that even in this category you can distinguish between the different perfumes and I want to talk about two very representatives of this category-
Pink Sugar by Aquolina vs Candy by Prada
I think first of all – the names just say it all.
It is very easy to understand how these perfumes are going to smell.

Let's start with Pink Sugar by Aquolina – sweet, sweet, and then a little sweeter. A sweetness bomb.
The smell of cotton candy, sugar slowly boiling on the stove, sugar syrup, toffee candy- just choose.
A little synthetic tho, but it has a smell of childhood no doubt.

If this perfume were a candy- it would be marshmallows or cotton candy.

Of the two, I think this one is more suitable for a young audience, girls, and women under 25 more or less.
In this period, we are experimenting with all sorts of things, polishing our taste and character and therefore a perfume like this is suitable.

If you like parties, going out until the morning, and want to convey lightness and lots of fun – this is the perfume for you. Buy it here

You can also try this cute product – Pink Sugar Scented Body Mousse Wash for Shower, Moisturize + Soften Skin, 3.4 Fl. Oz.

Prada's Candy – is still sweet however we have a little more sophistication in the composition, it's less punchy and more relaxed.

If this perfume were a candy – it would probably be a chocolate snack with nuts, nougat, and caramel, something that adults enjoy eating occasionally.

It radiates youthful freshness, joy, and sweetness but is sexier, and more interesting.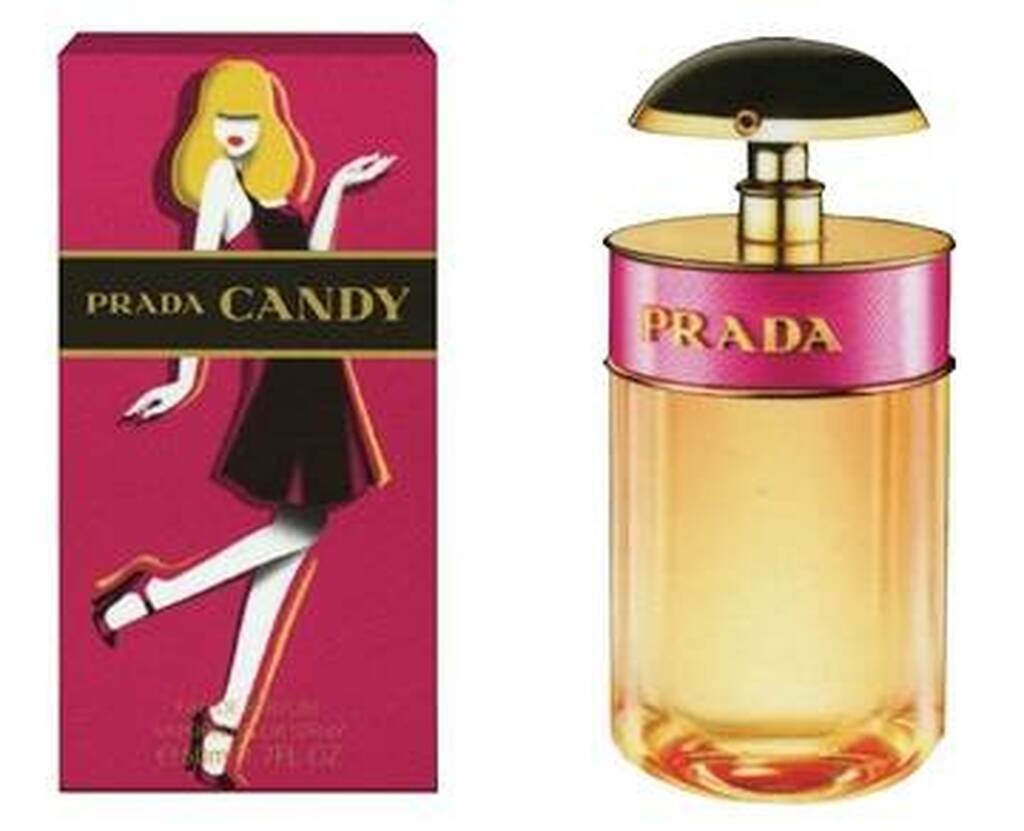 After the opening, it balances and has a slightly powdery smell.

I feel that whoever made it aimed at a mature audience and took responsibility to produce a sweet perfume that offers more depth and calmness. Buy it here
If you want to explore other perfumes from this line, I list them below:
Prada Candy Sugar Pop Eau De Parfum Spray For Women 2.7 Oz
Prada Prada Candy Night Women 2.7 oz EDP Spray
Prada Candy Florale for Women 2.7 oz Eau de Toilette Spray
Prada Candy Kiss Eau de Parfum, 1.7 Ounce
See my review of other sweet perfumes – Girl Of Now by Elie Saab – Review, Reb'l Fleur by Rihanna – Review
I wish you a sweet day 🙂
Keep reading –
Now I must love you and leave you.
Sharon –Rachel