I love collecting perfumes (and talking about them and writing about them…) , and having my perfume collection on display brings me a lot of joy, but as my perfume collection has grown it has become difficult to keep the perfumes organized while still keeping them on display.
I have been looking for an organization method that is aesthetically pleasing, and effortless.
I was not ready to commit to a permanent shelf or cabinet nailed to the wall, I wanted a portable option. After exploring different possibilities, I decided in favor of a perfume display tray.

Do you have a large perfume collection and are struggling to keep it organized? Are you looking for a simple solution to keep your perfumes in place?
Disclosure – **This post contains affiliate links and I will be compensated if you make a purchase after clicking on my links (with no extra cost to you)
Why Do You Need a Perfume Tray?
Here is why I think a perfume tray is a great solution to my perfume organization problem and can be to yours too.
A perfume tray is one of the easiest ways to organize your perfumes with minimal effort. All you need to do is place the tray at your desired spot and arrange your perfumes in it and you are good to go.
The biggest advantage of using a tray over other organization methods is the portability. You can easily change the location of your perfumes all at once, by picking the perfume tray and moving it to the new spot. You can keep it displayed on your vanity, place it on your bathroom counter, or store it in your cupboard, the choice is yours.
All of us perfume lovers get joy from seeing our perfume collection. Perfume bottles are often beautiful and can serve as decoration pieces. You can use a perfume tray to display your precious perfume collection while still keeping it organized.
The last thing you want is to have your favorite perfume sit in a cupboard forgotten for years. Having your perfumes on display serves as a reminder for you to switch your scent from time to time and give all your loved possessions an equal chance to shine.
Perfume trays are easy to clean. All you need to do is swipe your perfume tray with a damp cloth and you are good to go.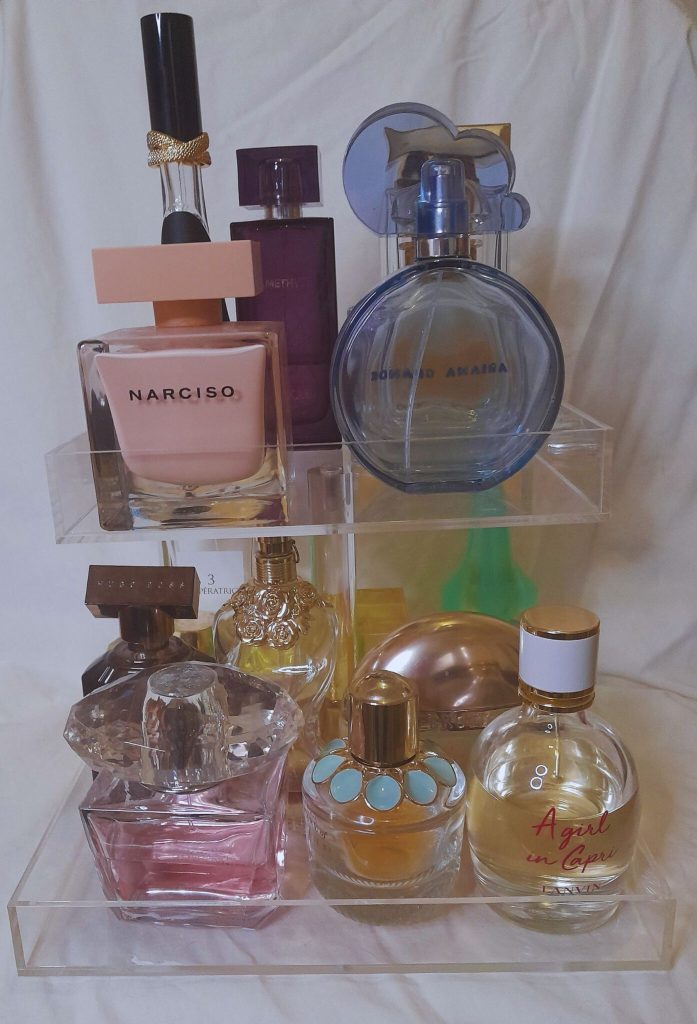 The Perfume Tray You've Been Searching For: My Honest Review
After deciding in favor of a tray over other storage methods, I started my hunt for the perfect tray to fit all my requirements.

I wanted something simple and minimalist, that could hold a large number of perfumes while taking little space on my vanity.

During my hunt, I stumbled upon this two-tier perfume storage tray, and I immediately knew this would work perfectly for my needs.

Here is a list of features which make it a perfect solution for perfume organization:
Space Saver: More Room, Less Clutter
Who does not want a space saver solution, when it comes to organization? This two-tier tray will take up little space on your vanity or counter while allowing you to display up to 20 perfumes.
Durability: Built to Last
It is made of plastic, sheer and modern looking.
The plastic body makes it lightweight and easy to clean, while still being durable.

Some of the other common options in the market for perfume storage are glass, marble, metal and wooden trays.

With glass, there is always the fear of it breaking or chipping. Wood may seem durable but it is often prone to moisture damage, which can result in stains and degradation over time and the other are just too expensive.
This two-tier plastic tray is lightweight and easy to move around. With its space-saving and portable design, you can easily move it around your dressing area, vanity, or bathroom, allowing you to access your perfume collection wherever you desire.
The tray has a sheer body, which gives it a minimalist yet stylish look. The sheer design lets your beautiful perfume collection shine. It is simple and can easily fit seamlessly in a space with any aesthetic and color scheme. It adds an elegant touch while still being understated.
Don't we all like low-maintenance items? Well, it can't get any more low-maintenance than this easy-to-clean two-tier storage tray. All you need to do is wipe it with a damp cloth and you are done.
Possible Problems, and Solutions:
This tray did turn out to be the perfect solution for my organization's needs but it doesn't mean it has no flaws. Here are some issues you may face while using it:
Limited Capacity: This tray is two-tier and can hold up to 20 perfumes, but I understand that some of you may have a much bigger collection you want to display. Well, a simple solution to it can be buying two or three of these trays depending on your needs.

Lack of Security: The tray has raised edges to prevent perfumes from falling, however, because of its open design, there is always a risk of an accident happening. I would suggest not placing it on the edge of your vanity or counter to minimize falling over.

Sunlight Exposure: The open design of this tray allows your perfumes to be exposed to sunlight which can affect the fragrance composition, longevity, and overall quality of your perfumes. To avoid any issues make sure to place the tray in an area with no direct sunlight.
Final Thoughts:
This two-tier tray is a great option if you are looking for a simple, sturdy, space-saving option to showcase your perfume collection. It has all the features to make it an easy solution for your perfume storage problems.

If you end up purchasing this tray, do share your thoughts and experience with me.


Some More Information:
Q1. How many perfume bottles can it accommodate?
A1. The two-tier tray can accommodate up to 20 standard-size perfume bottles. The number may vary depending on the size and shape of the perfume bottles.
Q2. Can it accommodate larger perfume bottles, or is it designed for standard sizes only?
A2. Because of its open style, it can accommodate larger perfume bottles as well as standard sizes.
Q3. Does the sheer plastic design affect the fragrances of the perfumes inside?
A3. No, the sheer plastic is not permeable to scents, so it won't alter the fragrances of your perfumes.
If you want to learn more about how to keep your perfumes – read here
Q4. How do I clean and maintain the perfume tray?
A4. Cleaning this tray is easy; simply wipe it down with a damp cloth. Avoid using abrasive materials that could scratch the plastic. When I realy want to quickly clean it I just put in the shower nad wash it with soap and warm water.
Q5. Can it be used for organizing other beauty products besides perfumes?
A5. Absolutely! It's versatile and can be used for organizing various beauty items like skincare products, nail polishes, cosmetics, and more.
Q6. Is the perfume tray easy to assemble?
A6. Yes, the tray is incredibly easy to assemble, and you can do it in under five minutes without any tools.
Don't forget to check out this Amazon shop were I bought my tray (bought and paid with my awn money, no dicount or anything sponserd.)
Well, I hope you enjoyed this and now I must love you and leave you.
Sharon -Rachel