For perfume lovers, having an organized collection is a key element to enjoying their fragrances whenever they please.

Do you have a lot of perfume bottles? Maybe too much? Well, I think I can relate.
Like so many women, I have a lot of perfumes, and it is hard to know what to keep and which to give away.

The thing that helps me to keep everything under control is having different trays.
I keep many bottles sorted in different ways: by room decor, the color of the bottles, which fragrance I use these days more often, seasons, and more.
So today, I'm going to share 6 of the best perfume organizers on the market these days.
Whether you're looking for something simple and affordable or luxurious and unique, I hope you'll find it here.
Check out the six best perfume organizers for 2022 below!
Disclosure – **This post contains affiliate links and I will be compensated if you make a purchase after clicking on my links (with no extra cost to you)
Here are some excellent perfume organizers:
Belmont Personalized Vanity Trays
The Belmont tray is a beautifully designed mirror vanity tray that can be personalized with your initials.

It makes a perfect addition to any dressing table or bathroom and is a great way to organize your perfumes, cosmetics, and other essentials.

The tray is from a well-respected company and is very elegant, fancy, and unique.

It would make a great gift for someone special as well.

Dimensions
Oval Vanity Tray (27647): 15″W x 9-1/4″D x 2-1/4″H.
Rectangular Guest Towel Tray (36361): 10″L x 6″W x 2″H.
Two-tier Vanity Tray (27646): 15″W x 10-3/4″D x 5-3/4″H.
2. Crystal Mirror Tray Vanity Perfume
This stunning round tray is perfect for storing your fragrances, and it's also a great way to display them.

The tray is made of luxurious materials and is very feminine.

The round shape and sparkling finish make this tray a truly unique and special piece.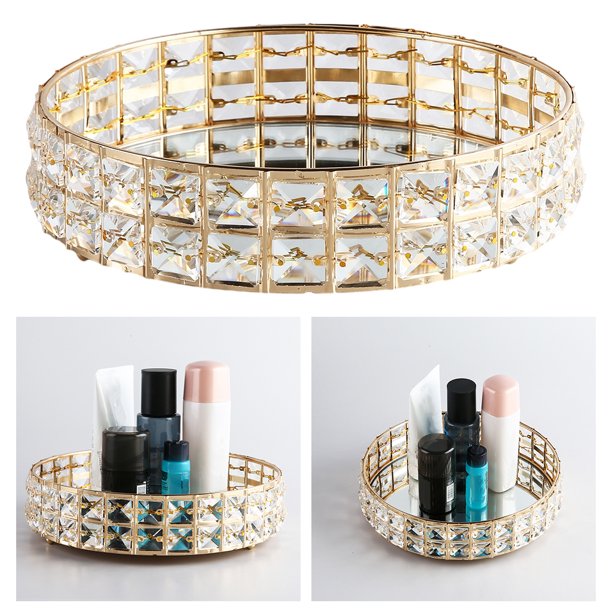 Diameter:
20 cm/7.87 inch
25 cm/9.84 inch
30 cm/11.81 inch

3. Art Deco Style Mirror Effect Vanity Tray -Display Perfume
This Art Deco tray for fragrances is the perfect way to add a touch of elegance to any room.

The sleek design is perfect for any vanity, bathroom, or nightstand, and it comes with everything you need to get started.

With a bottle or two of your favorite fragrance, some fresh flowers, and a piece of soap, this tray is the perfect way to spruce up any space.
Material: Acrylic
Size:
Mirror: 26.5x18x3.5 cm/10.43×7.09×1.38 inch
Black: 28x28x4 cm/11.02×11.02×1.57 inch
4. Elegant Designs Decorative Wood Serving Tray with Handles

Check out this beautiful wood tray in red!

This less formal, playful tray is perfect for getting creative with your fragrance display.

Use your imagination to assemble it however you like!
It's the perfect way to show off your personality and style.


Great information –
Red wash finish on the wood. White "freedom" text and graphics. Black metal handles. On-trend farmhouse design tray measures L 15.50″ x W 12″ x H 2.25″.
Distressed look perfect for a rustic feel product Dimensions 15.5″Lx12″ Wx2.25″H, Weight 1.03lbs
5. Ridge Road Décor 2-Piece Distressed Wood Slat Serving Tray Set in White/Blue
Stunning wood tray in blue and white.

Perfect for coastal or ocean-themed scents, this tray is sure to make a splash in any room.

The large size can accommodate plenty of bottles, while the clean look keeps things looking sleek and polished.

Whether you use it for everyday display or save it for special occasions, this tray is sure to become a beloved part of your fragrance collection.

Plus, the versatile design means you can use it for other purposes too – making it the perfect addition to any room.


Awesome details-
Vintage country style with Ridge Road Décor's Distressed Wood Slat Serving Tray Set. This artisanal design features a distressed paint finish and jute rope handles.
Vintage country-style trays with slatted bottoms and distressed paint finish
Jute rope handles for easy carrying
Set includes:

18″ L x 13″ W x 2″ H tray
15″ L x 11″ W x 2″ H tray

6. Metal Storage Basket
Looking for a chic way to display your fragrances?

These are beautiful, modern, and light trays, and come in many sizes to fit your needs.

They're also very comfortable and easy to use, making them the perfect addition to your dressing table or vanity.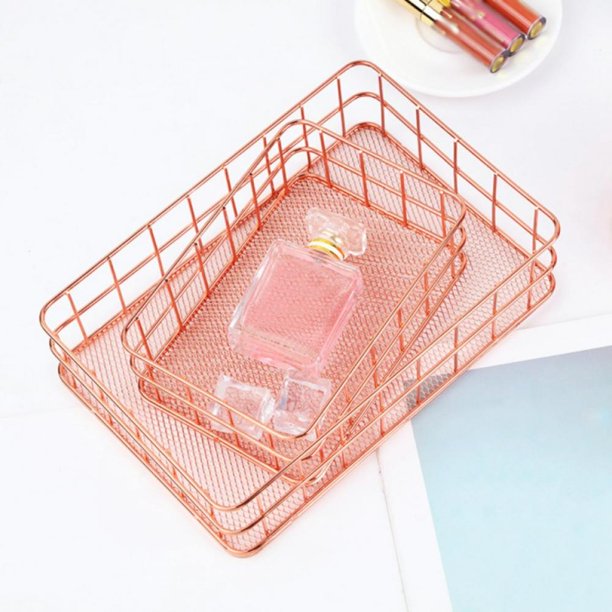 Product details –
Material: Iron
Style: Modern
Color: Pink
Feature: Eco-friendly
Size: A:10.3*9.9CM/4.06*3.9in , B:10*9CM/3.94*3.54in, C:11.9*17*6CM/4.69*6.69*2.36in D:24.3*16.4*6.5CM/9.57*6.46*2.56in.
If you have some more questions – then keep reading:
Should I organize my collection in a drawer or put it on display?

I really like perfume bottles and enjoy looking at my collection so I am quite in favor of presenting it but with some reservations.
There are a few things to consider when deciding where to display your perfume collection.
One is the climate- you'll want to avoid putting your bottles in direct sunlight or near a heat source, as the heat will quickly damage the fragrances.
Another thing to consider is aesthetics – If you have beautiful bottles of perfume, you'll want to show them off!
Display them on a vanity, shelf, or tray where people can see them and admire your collection.
Another benefit is to display your perfumes in visible places so you can easily access them.

If, however, your collection is more modest or you don't have enough space to display everything, you can organize them in a drawer instead.
Keeping them in a drawer will keep them clean and neat.
How to organize perfumes in a drawer?

You can organize them according to color, and size, or use a divider.

For example, I keep mine in the order of lightest to darkest colors and then by size. You could also do male/ female fragrances or by type of fragrance (floral, woodsy, etc).

Another option is to get a drawer organizer that has different-sized compartments which will help to keep them organized and easy to find.
How do I display my perfume collection?
The elegant way –

The elegant way to display your perfume collection is on a marbled tray with some fresh flowers or on a mirror tray with gilt handles for example.

This will add a touch of sophistication and elegance to your space.


Look and feel vintage-

If you want a more rustic look, you can use a vintage-looking tray.

This will give your collection an antique feel.

Make sure this look is compatible with the rest of the room.


Neat, tidy, and clean look-

The tidy and clean way is to gather everything in one place – This will help you keep track of all your perfumes and make them look tidy and clean.

You can use an acrylic organizer or any other storage unit that best suits your needs. Just make sure everything is visible and easily accessible.

If you have a lot of perfume bottles, it might be best to organize them by type (e.g. floral, woodsy, oriental) or by color.

The luxury way-

A luxury way to display your perfume collection is to have up to five bottles, only the best.

You can use candles, flowers, candlesticks, and fashion books to enhance this look by placing these items near the perfume bottles.


Will my perfume spoil if stored outside the closet?
If you store your perfume in a hot, humid place or in direct sunlight, it will spoil more quickly and may only last for a few months.
Perfumes will eventually damage if they are not stored in a dark, cool place.

The main reason is that sunlight and heat will cause the perfume to evaporate more quickly, which will reduce the fragrance and make it less potent.

Over time, the ingredients in the perfume will also break down, which will make it smell different than when it was first purchased.

Eventually, it may even become unusable – Read more about perfume expiration.

Latest posts:

Well, I hope you enjoyed this and now I must love you and leave you.
Sharon -Rachel