Disclosure – **This post contains affiliate links and I will be compensated if you make a purchase after clicking on my links (with no extra cost to you).
Mozzafiato.com carries the largest assembly of beautiful, iconic, and unique Italian beauty brands, in one place.

I invite you to read my interview with the CEO of Mozzafiato – AMY PARSONS and discover a great brand with an Italian aroma.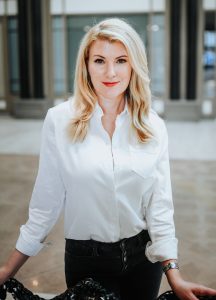 Meet Amy Parsons, CEO of Mozzafiato, and learn more about this brand.
Italy for me is the essence of culture, art, fashion, beautiful cars, great food, wine, architecture and in short – all the good things life has to offer.

I have been to Italy twice before – I traveled to Rome, Napoli and visited Capri. Just writing about Italy makes me want to travel back – There is so much to learn and see.

The Italian language is so beautiful and the people are kind and sweet – I truly recommend anyone who can visit this magnificent place.

This is exactly why I am so thrilled and happy to conduct this interview and more importantly to tell you guys about this amazing house that brings a piece of Italy to the US.

They pick only the Crème de la crème, the finest brands from Italy, and allow people to try (and get addicted) to Italy's finest beauty products.

We are talking about perfumes so unique you'll be choosing a new signature scent for yourself, candles, body lotions, men's products – all come in the most beautiful packages, lovely scents, some are vegan friendly and are manufactured in boutique companies.

Your journey to the DOLCE VITA starts here!

Amy, does the name Mozzafiato have a special meaning?
Yes! This beautiful Italian word translates into "breathtaking" in English which we thought was appropriate for the beautiful brands and products we bringing into the US market.
Here is a blog I recently wrote about the meaning and how others see it. https://mozzafiato.com/blogs/travel-journal/what-does-mozzafiato-mean
Why bring Italy to America?
There are so many brands there – what is your uniqueness in this large and crowded industry?
I believe that the market in the US has become so cluttered with new/now/fast brands that people are ready to return to products that are authentic, slowly made with carefully crafted ingredients, and have a unique and gorgeous design.

No country delivers that like Italy. The heritage, quality, and style cannot be replicated anywhere in the world.
Do you see similarities between the American way of life and the Italian one?
There is a lot of Italian influence in the US and Italy is the most visited European country for Americans. We share a love of food and wine, culture, and fashion.
I believe that when Americans discover the difference with Italian beauty brands, they will fall in love with them as I have.
What are your three standards? How did you decide on them?
Every brand and every product we carry must meet the standards we have set in La Promessa Mozzafiato – Italian authenticity, the highest expectations for quality and performance, and that impeccable Italian design.

We believe all three of these pillars must be met to really stand out and make an impact in the US market.
How many brands do you carry?




Tell us – do you have one you love and why?
We currently carry 17 brands and I love each one for different reasons. Each brand has its own unique story and heritage, some dating back more than 400 years.

I love the fragrances of the very oldest brands like Farmacia 1561 and Carthusia as those scents transport you through the centuries and into the hearts of places like Florence and Capri.
What products are your biggest hits?
Perhaps it is because of the times, but all of our hand soaps and hand creams are popular, especially the incredible scents from Rudy Profumi.

The skincare from Borghese is always in demand, as are all the bath & body products from Perlier (the Imperial Honey is my personal favorite).

The men's products from Proraso and Acca Kappa are also great hits. But we see different fragrances and products emerge as hits all the time. Our curated gift bundles are always great for each holiday.
Do you plan to ship outside the State anytime soon?
We plan to ship to Canada soon, followed by Mexico.
As we grow, we will continue to expand to countries with demand for the products.


You are invited to buy their excellent products – here for perfumes or here for candles.
I hope you enjoyed this as much as I did.

Photo Credit – Mozzafiato