I want to offer you a brief review of the 7 perfumes in my collection that I enjoyed the most in 2020.

2020 has been a difficult and bad year for so many of us and me personally.
This year – I needed patience, willpower, and maturity to deal with the unfortunate death of someone very close to me.

No matter what difficulties I had I was determined to get up every morning and shower, get dressed, put on make-up and some perfume – even though I couldn't leave the house or have anywhere to go, I wanted to feel good and for me, this was the right way to achieve some peace and feel normal again.

During quarantine, I sat at home, and like everyone was trying to kill time, be productive, etc…
As I write these words we still have nowhere to go – the cinema, restaurants, cafes, and theaters are still closed.
But as I mentioned before it was important for me to maintain my routine and part of it was to perfume every day.


Amazing what a perfume can do:
I had fun choosing the 'perfume of the day ' from my perfume collection-
Having to decide which to put on, what my feelings are today, should I use the really expansive one even if I am at home all day? (yes.. da..) and most important, choose one to uplift my mood and just make me feel good.

Here are some of the perfumes I have in my collection that I enjoyed over the past year of 2020- I hope you will also find one or two for you on this list.

I hope they will serve you well and elevate your spirit, and confidence, and just make you smile.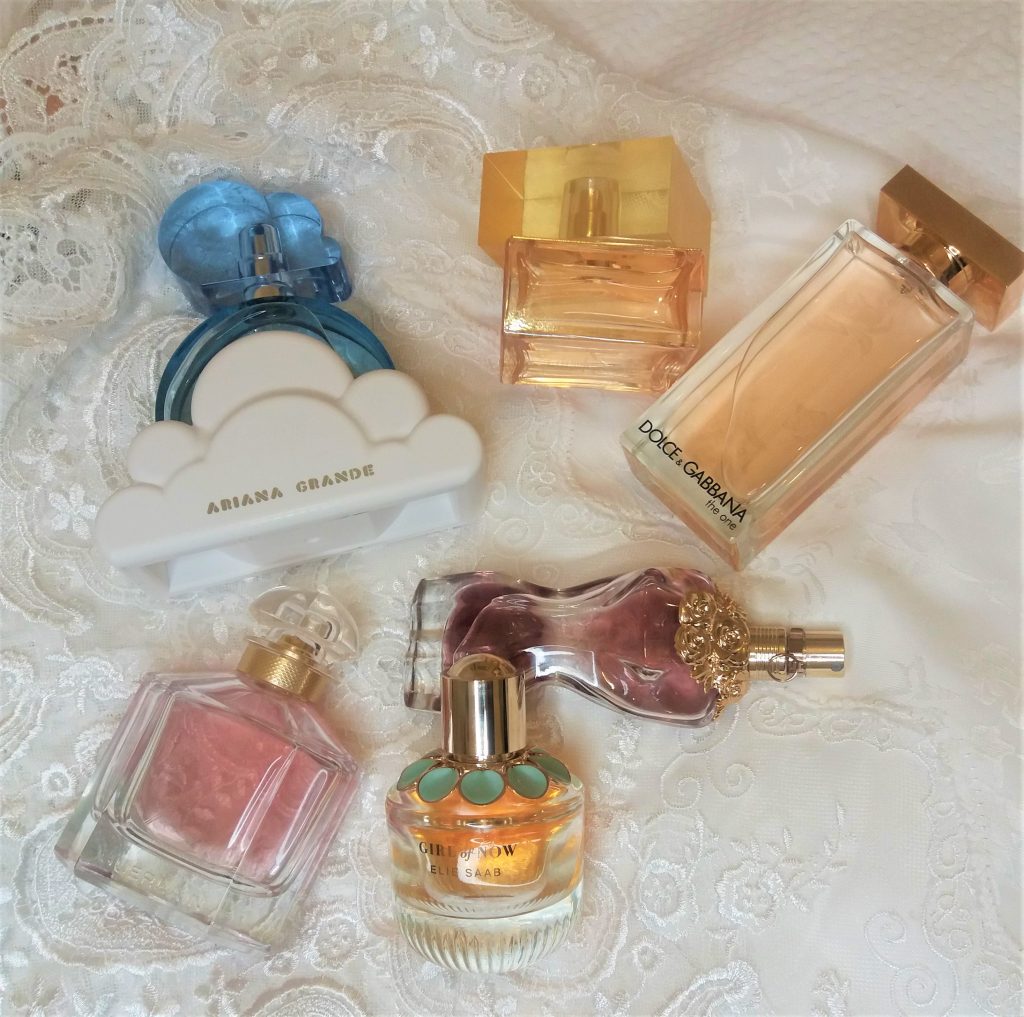 Zen by Shiseido – E.D.P
A wonderful, summery perfume, a great mood elevator. Comes in a stunning bottle in two shades of yellow, just a perfect and radiant cube. Helped me get through some gloomy days.

This perfume is reminiscent of Chanel's Coco Mademoiselle, especially in the first spritz.
The scent is slightly floral but does not smell like a specific scent of a flower.

It dries to a deep, slightly powdery perfume.
Don't miss out on this one – get it here: Amazon

The One by Dolce & Gabbana -E.D.P
A sweet and warm vanilla scent, very intoxicating.

Right from the start, you'll smell the vanilla, powerful, and sweet, melting into your body. This perfume is not the pinnacle of sophistication but here lies its power – it gives you exactly what you need.

We are in January, it is cold and this is just the perfume suitable to accompany me in the winter, to comfort and hug.
You can buy it here- Amazon or here – HottPerfume.

Mon Guerlain by Guerlain – E.D.P
What hasn't been said about this perfume from Garlan? That is used lavender and therefore it is so special, that it has the scent of a woman, that it is the scent of luxury and money .. Really everything has been said before and everything is true.

It is marvelous. Great as a gift for any woman, comes in a beautiful bottle and makes you want to smell yourself time and time again.

Stay about 4 hours on me.
I highly recommend this perfume.

Buy it here- Guerlain


La Belle by Jean-Paul Gaultier – E.D.P
If you liked the original you will immediately recognize this perfume and I believe you will love t too because even though it is a flanker of the original it stands on its own and is original, unique, and smells great.

Suitable for all ages in my eyes.
Comes in a tin box like the rest of the series, a beautiful bottle to give as a gift.


Dylan Blue by Versace -E.D.P
It is a bright, crisp, floral perfume that gives a vibe of luxury soap, full of white flowers, shiny and different.

Let's start with the bottle – perhaps the most beautiful presentation in this selection of perfumes and certainly regarding the price (such good value for money).

When wearing a bright, fresh perfume you will always be the center of attention because it is simply noticeable much more than any other perfume.

It is great as a gift because the bottle is excellent and beautiful, the scent can suit any woman of any age from a 16-year-old who wants to put something pleasant to school or a gymnastics class to the senior principal who wants to stand out above everyone else.

You can find my full review here.

You can buy it here – Hottperfume.


Cloud by Ariana Grande – E.D.P
The surprise of the year for me!
Excellent perfume – slightly sweet and smoky leaves a wonderful trail and has a good presence.

If given as a gift it should be to someone young, perhaps a fan of the singer.

See my full review here.

Great price!
Buy it – Ulta


Girl Of Now by Elie Saab – E.D.P
My biggest addiction this year. The addictive and intoxicating smell of sugar and almonds.

Every time I put it on I can't stop smelling myself.

Wonderful and pleasant, stayed on me for about five hours. I highly recommend this perfume!

I'm planning to repurchase it very soon so I won't be left without a bottle.

Buy it here- Amazon
I would love to know if you know any of these perfumes, if you use them or if you find my list helpful – please let me know in the comments.

I wish you all a great new year 🙂
Continue reading: