Most people know that getting a good night's sleep is essential, but many don't realize just how crucial it is.

Sleep deprivation can lead to all sorts of problems, from decreased productivity and focus to serious health issues.
In this post, I'll discuss the importance of sleep care and offer some tips for getting a better night's sleep using aromatherapy.

Disclosure – **This post contains affiliate links and I will be compensated if you make a purchase after clicking on my links (with no extra cost to you)

Good and quality sleep is a sought-after commodity in 2021!
One of the topics that will be talked about a lot in 2021 is sleep care!
I mean we all must sleep, of course, and we all prefer a good night's sleep yet it is a difficult task for some to accomplish.
We all hope that 2021 will bring with it better news than the previous year. In the past year, I have had a lot of free time (relatively) to ponder in life, what I have achieved and where I am going from here.

I mostly turned to reading about self-grooming and personal empowerment.

I think personal empowerment spans a lot of issues and is very individual. You can start learning something new, start a business, travel to a faraway place, or just get to know new places in your country (thanks to Corona), take on the challenge of reading a book a week, learn to cook, and more…

One of the topics that fascinated me most was the nourishment of body and mind.

I agree that a healthy mind resides in a healthy body and that sometimes a simple investment in our appearance will make us feel good, powerful, and better.

One major way to look and feel good is to get a good night's sleep, so you get up in the morning after a good night's rest.


Even people who do not have difficulty falling asleep and sleeping well strive to improve their sleep.
The internet has lots of ideas about what things we should do before bed.

Some will recommend a hot shower, journaling, practicing yoga, shutting your phone and eliminating blue light, eating well, going to bed at the same hour every night.. and more…

I am not going to write about what can lead to loss of sleep nor about the advice I wrote above, instead, I am focussing on the things scents can solve.

So if you already have a cozy room, the right mattress, good bedding, and soft pajamas, you are after a shower and want to sleep – here are my recommendations for a calm and pleasant sleep.

How to use aromatherapy & Scents to sleep well?

I will give you some ideas I am using when it came to a good night's sleep – scents-wise.

I use:
Essential oils.
Candles.
Bedding scents.
Perfume.


1. Essential Oils

After a warm shower, apply some essential oil to your body.
Linger and smell the palms of your hands by taking a deep breath.
Do it a few times in and out to get into the mood.

You can apply the oil before taking your bath, then soak in the hot water with the oil and then rinse it so you won't be going to sleep all greasy. This is a personal preference.
An essential oil should be applied along with carrier oil.
Carrier oil is an oil that can be applied to the body, from a natural source and usually has no odor. Almond oil is an excellent oil for this and to this oil, you can add a few drops of essential oil.

Excellent scents for relaxation – they are the first and foremost ones that are pleasant to you and make you experience a feeling of joy. I recommend not applying very potent scents that can interfere with sleep (yours or your partner's).
Recommended scents – lavender, patchouli, bergamot.

If you have a slight cold in the winter that interferes with your sleep and your nose is clogged apply a little Geranium oil or Eucalyptus oil on the chest (with a carrier oil) and inhale gently. (These are pretty potent oils, exercise discretion in quantity).
Here are some good essential oils to consider –
If you need to know – The Difference Between Fragrance Oil and Essential Oil – please continue reading here.


2. Clean and Fresh Bedding-
Aromatic sleep care products like essential oils and pillow mists are a great way to relax the mind and body before and during sleep.
Slightly perfume your sheets with fragrance diffusers designed for fabrics.
Using sleep fragrances is a great way to get into the habit of sleeping well and maintaining better sleep hygiene. Just like with any sleep routine, you'll need to experiment to find out which sleep scent works best for you. When choosing your sleep fragrance, consider the smells that make you feel relaxed and calm.
Important – choose a refined scent that won't disturb your sleep.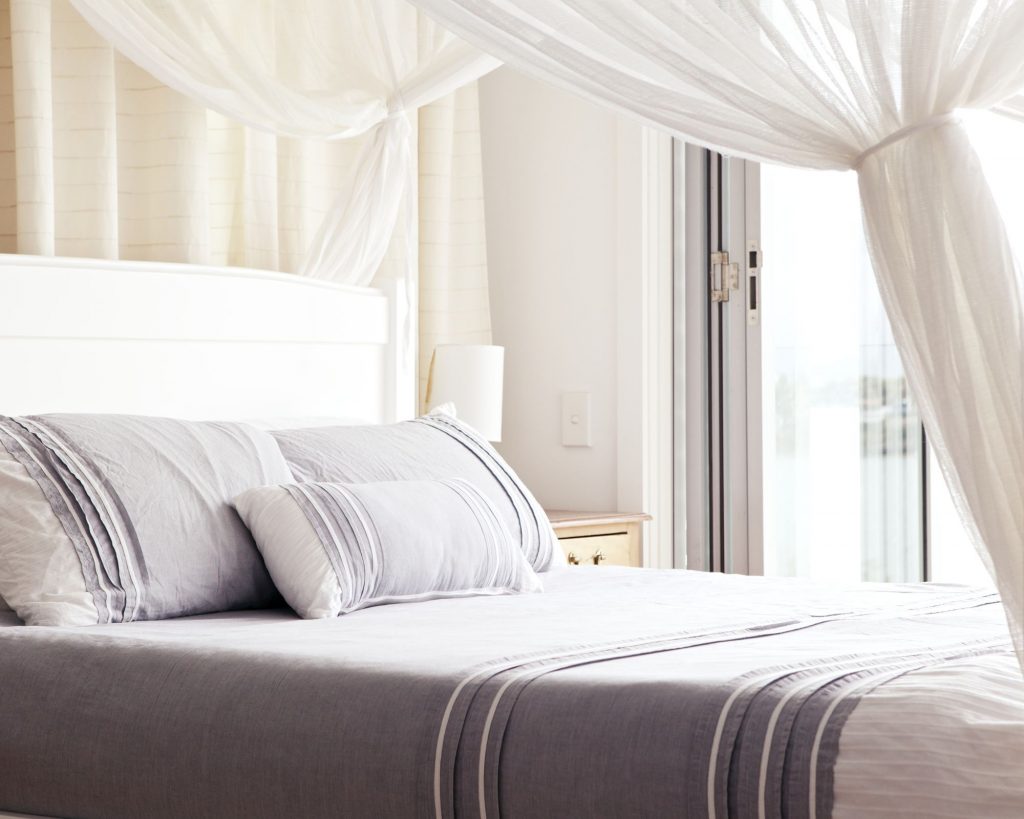 As for me – I must point out that I iron my bedding with Merito – and the smell it leaves is unquestionably pleasant enough for me.
It's a scent that reminds me of hotel bedding and gives me a sense of vacation so usually, it's enough for me, but I use fragrances, other starch sprays, and essential oils.
But what if there is a way to improve your sleep even further? Sleeping on high-quality bedding can make all the difference in the world when it comes to getting a good night's sleep.

Not only does it feel great to crawl into a bed that's been freshly made with luxurious sheets and a soft duvet, but sleeping on quality bedding can also have health benefits.
Choosing the right type of bedding is essential for getting a good night's sleep.

You can choose whether you like cotton, linen, Tencel, satin, and more…
While both cotton and linen are popular choices, each material has its own benefits.
Cotton is lightweight and breathable, while linen is softer and more durable.
So the tip I have for you is to use silk bedding – They are very good for your face and hair and will give you a feeling of royalty.

This vegan silk bedding kit is designed to keep you comfortable while you sleep so that you can enjoy a restful night's sleep.

The sheets are soft enough for your skin and will not irritate it even if you have sensitive skin.
Try this sleeping kit (if you don't want to invest in a full set)-

3. Scented Candles
I like to use scented candles in the bedroom though I only use them when I am awake and not right before bed for fear I will forget to blow them out in time.

Using good candles on an everyday basis adds a lot to intensify the pleasant smell in the bedroom.

Candles come in all sorts of scents, so you can find one that best suits your needs. Whether you're looking for something floral, woodsy, spicy, or citrusy there's sure to be a scent that will please your senses.
They're affordable and easy to use.

Candles are one of the most affordable ways to improve the décor and mood of your bedroom. Plus, they're easy to use—simply light them and enjoy!


Candles spread soft light and contribute to the atmosphere.
The soft light and calming aroma of candles can help you relax after a long day. This makes them perfect for use in the bedroom, where you should be aiming to create an environment that promotes relaxation and restfulness.
So if you're looking for ways to make your bedroom more inviting and relaxing, start with candles!
If you need an idea of – WHAT PERFUME PRODUCTS TO USE TO PERFUME YOUR HOME? – keep reading for a full list of amazing products that will help you keep your bedroom and home smelling exquisite.

4. Perfume Yourself
It is always advisable to spray pleasant and delicate perfume in my opinion.
Spritzing yourself with a light scent can help you unwind and prepare for a good night's sleep.

Choose something calming, like lavender, white florals, vanilla or soapy perfumes, and avoid anything too strong or floral.
You may also want to avoid citrus scents, which can be energizing.


Here are some perfect perfumes for going to bed/sleep –
No. 5 by Chanel for Women, Eau De Parfum Spray, 3.4 Ounce – As the legendary Marilyn Monroe revealed once in an interview when asked what she is wearing in bed – she answered:
"five drops of Chanel No. 5" so if it's good for this superstar icon it's also good for me.
Donna Karan Cashmere Mist For Women. Eau De Toilette Spray, 1.7 Ounces
RALPH LAUREN ROMANCE EDP SPRAY 1.7 OZ


Vera Wang Princess Eau de Toilette Spray for Women, 3.4 Fl Ounce.
Lovely by SJP – Eau De Parfum Spray Fragrance for Women
Christian Dior J'Adore Eau De Parfum Spray for Women, 3.4 Ounce
If you want to find incredibly good soapy perfumes – check out my list here.
You can also use this list of the TOP 20 FRESH & CLEAN PERFUMES.

Experiment until you find the right fragrance for you.

It's so important to take care of ourselves, and often the simplest things make the biggest impact.
By using candles, essential oils, and perfumes we can create a luxurious and calming environment for ourselves that promotes self-care and relaxation.

Pampering ourselves doesn't have to be complicated or expensive, sometimes the simplest changes can make the biggest difference.

Give some of these ideas a try tonight and see how they change your nightly routine for the better. And if you need any help picking out the perfect candle or perfume, feel free to click these links.
Good Night & Sleep Well:-)
Well, I hope you enjoyed this and now I must love you and leave you.
Sharon -Rachel
Read my latest posts: