A shortlist today of sexy perfumes you can find under $50.

Some are dark, some are bright, for younger crowd or mature – I have here something for every woman.

If you are looking for a new signature perfume or just have a nice gift for yourself I think this list is a good place to start.
Disclosure – **This post contains affiliate links and I will be compensated if you make a purchase after clicking on my links (with no extra cost to you).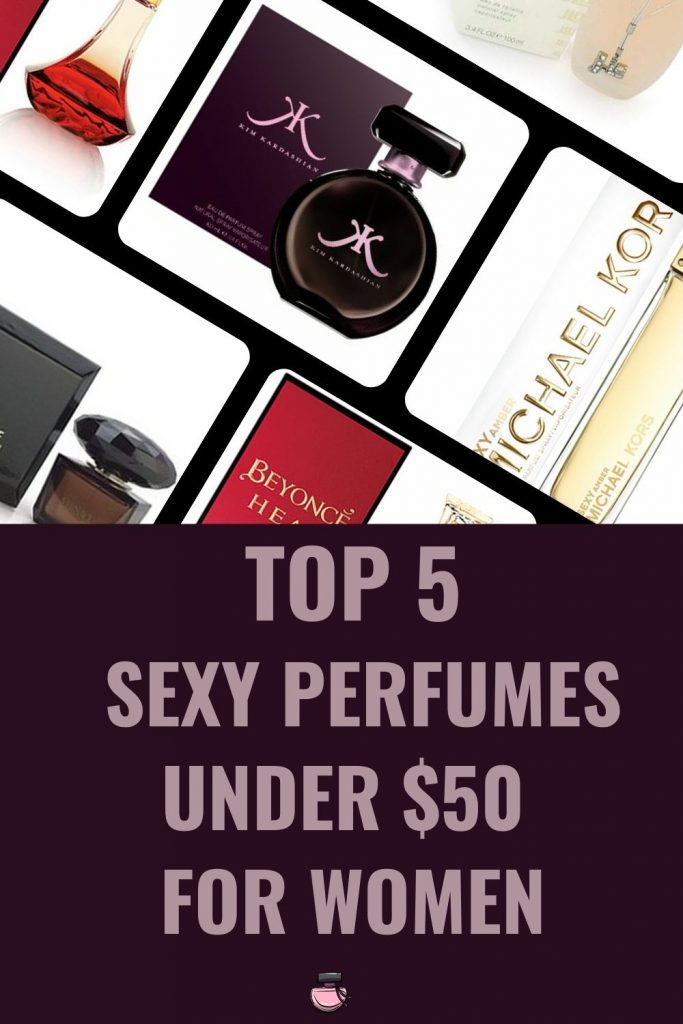 HERE ARE TOP 5 SEXY PERFUMES UNDER $50:
Beyonce Heat Perfume for Women 3.4 oz EDP –
This perfume was launched in 2010 and after the original came many flankers.
It's an amber vanilla perfume, fruity with a strong peach in the opening.

I think it's very sweet – so please think before you buy it (although it got a low price point) if you like more of a moderate scent. It is a gorgeous, creamy, fruity perfume for the winter season mainly.

The projection is good and the longevity is decent on me – for 4 hours.
Michael Kors Sexy Amber Perfume 3.4 oz EDP Spray

This perfume is more on a powdery note, it's warm and a bit spicy.

I feel the amber note is leading the tone scent-wise and the sandalwood note is more in the dry down which makes this perfume smooth and creamy.

I think a mature woman will enjoy this one better than a younger one because it is very feminine and complex.

This perfume is versatile enough to wear for a late drink with your partner, going to a party and, also it will be lovely for work if you are a boss lady.

Kim Kardashian Perfume 3.4 oz EDP Spray
For its category – celebrity perfumes, this one is doesn't smell like a celebrity perfume, and that is a good thing!
Located high with other celebrity scents that are very pleasant (like Arianna Grande Cloud and Rihanna R'bell fleur), almost like a designer perfume this perfume has a lot to offer.
First thing first – the price: this perfume is easy on the wallet, it is the most affordable on this list.
The scent- this is a fresh perfume because of the white florals in it however it got a little sweetness that makes it such a delicious perfume.
It is a feminine and romantic fragrance, the sexiness here is different.
It will be lovely as a signature scent and going out on a romantic date night.

Versace Crystal Noir Perfume for Women EDT Spray 3.0 oz Spray

This perfume launched in 2004 and is still very relevant and fun to use.
It's dark, has depth, creamy, and round perfume.
The name of this perfume really captures its essence – it's bright like a crystal and the dark side comes from noir =(noir is black in French).
If you want a sexy, sweet, fruity-spicy fragrance then this is the perfume for you.
The price is affordable, the longevity is bout 5 hours (on me), projection is moderate.
J.Lo Glow For Women 3.4 oz EDT Spray


The perfume for young lovers, in their 20's, cuddling together, having fun, going to the movies together…

This is not your classic sexy perfume (dark, spicy, sweet, fruity, etc…) because it is very soapy, clean with white flowers, I decided to include it because it is close to the skin and makes you come together, get closer to one another and this is romantic and sexy but in a fun, young way.
Read my review on another bright, beautiful white floral perfume here.
Well, I hope you enjoyed this and now I must love you and leave you.
Sharon -Rachel.